The Strange (and Rare) Videogame Pics Page
---
PC CARD PHILIPS CD-I
---
From the official Philips catalog

I am still unsure if this card was really produced for the consumer market. Surely a similar model was distributed for developers but consumer distribution wasn't confirmed by Philips when I tried to contact them. I hope to have more on the subject soon!

---
PC-CDI CARD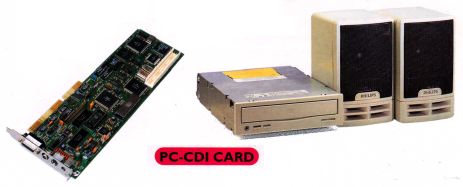 Technical specifications
Compatible with the following standards: Interactive CD (CD-I), Audio CD,Photo CD and Digital Video (for movies, musical clips and videogames).
Easy to assemble thank to a Plug and Play architecture.
Compatible with any VGA screen. Use the PC mouse like a controller.
On board CD-ROM controller via a IDE interface.
Digital connector.
AV output to connect it to TV sets and Hi-Fi systems.
Comes with: CD-I system on card, 4x CD-ROM player, 2 speakers, complete documentation.
MPC2 compatible.
System requirements
IBM PC compatible with 386 SX/160 processor or higher.
2 MB of RAM or higher.
2 MB free on hard disk or more.
1 full lenght ISA slot.
VGA or Multisync card.
Microsoft Windows 3.1 or higher.
Mouse.
MS-DOS 5.0 or higher.
1 free bay for the CD-ROM player.
I didn't kwon about this model until few weeks ago. It is an ISA board that add CD-I compatibility to a Windows or DOS-compatible PC. I don't think it was sold in high numbers... probably is one of the less sold CD-I player by Philips.
---
If you want more informations you can find the Official CD-I FAQ from Philips here.

---
These pages are © 1998-2001 of Fabrizio Pedrazzini
Images are © original sources - All trademarks © respective owners