The Strange (and Rare) Videogame Pics Page
---
HUDSON 32 BIT PROTOTYPE SYSTEM

AKA IRON MAN

AKA PROJECT TETSUJIN

From this project NEC developed his PC-FX multimedia system. The system was developed by the same designers of the PC Engine and later was sold to NEC that used only a small fraction of this technology to develop the FX system.

---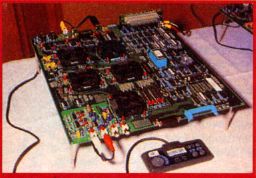 The board as it was presented in 1992. Note the PC Engine joypad attached to the board. Two stickers (one with the Hudson logo and the other with the famous bee logo) cover NEC and HE system logo on the pad. At the time Hudson wasn't in talk with NEC to mass-produce and distribute the system. It's unknow how much of this board was used for the final PC-FX hardware design, anyway I think very few...
This was the last hardware project made by Hudson Hardware Team (they developed also Sharp X68000 and PC Engine systems).

---
Useful links

A very cool site about PC-FX, PCEngine, Turbografx-16, Japanese music and much more!
It has the most complete PC-FX section available online.

---
These pages are © 1998-2001 of Fabrizio Pedrazzini
Images are © original sources - All trademarks © respective owners