The Strange (and Rare) Videogame Pics Page
---
NINTENDO

SUPER NINTENDO MOUSE

Nintendo produced this mouse to be used with their line of educative SNES games. It was also used in a few selected other games but support for this alternative controller was not much...
If I remember well this peripheral was sold in a pack-in with Mario Paint and wasn't sold alone. This "game" was also a sort of inspiration for the Mario Artist series that recently was distributed in japan only for the ill-fated 66DD add-on.

---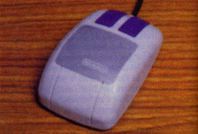 The mouse in all its glory. Colors perferctly match those of the original US SNES system.

---
These pages are © 1998-2001 of Fabrizio Pedrazzini
Images are © original sources - All trademarks © respective owners