The Strange (and Rare) Videogame Pics Page
---

SHARP


X-680X0 COMPUTER SYSTEMS
Co-developed by Hudson Soft (the same team that created the famous PCEngine) and the well-know Japanese electronic giant Sharp, these computers became a big success in Japan from 1986 to 1997.
Marketed in 1986, the first version of the system called "Sharp X68000" sold very well and soon became the dream of many Japanese computer users. Production of the system was stopped in 1997 when the last X68060 was assembled. The Sharp computer was the only commercial system that used a Motorola 68060 in huge quantities.
A lot of different models of the system were made during the years. Here is a list of some: X68000, X68000 ACE, X68000 PRO, X68000 EXPERT, X68000 PROII, X68000 EXPERTII, X68000 SUPER, X68000 XVI, X68000 COMPACT, X68030, X68030 DASH, X68040 TURBO, X68060 TURBO.

---

The system in all its glory. Note the strange design of the central unit.

A beautiful sketch of the systme found on the net!

---
Based on the popular Motorola 680X0 line of processors the system could be considered the Japanese equivalent of the Commodore Amiga or of the Atari ST.
The operative system (as well as part of the hardware) was developed by Hudson Soft and was called Hudson Os. Later the same team worked on the PC Engine project and on the chipset that was the heart of the PC-FX.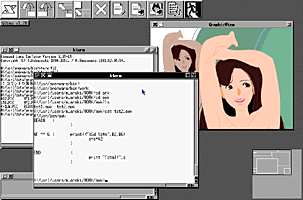 The freeware Windows-like interface called "Ko-Window".

---
On the software side the situation was very good: a lot of useful programs and utilities were produced (as well as a Windows-like interface) but the best part came from the games!
Many popular software companies (like Capcom, Konami, Data East, Falcom and Hudson Soft) developed games for the system that soon became well known for a lot of near arcade perfect translations of many coin-ops.
Here is a small list of games I think need to be mentioned: Final Fight (with 24-bit colors graphics, 2 player co-op mode and absolutely no slow down), Ghost N' Goblins, Salamander, Gradius II, Parodius, Super Street Fighter II, Ultima V and a lot of other good titles.

SCREENSHOTS FROM SOME GAMES

GEMINI WINGS

GRADIUS II

PACMANIA
---
TECHNICAL INFORMATIONS *

CPU

Motorola MC68000 @ 10 MHz

RAM

Standard: 1 or 2 Mb
Max: 12 Mb

COPROCESSORS

DMAC 63450, MFP 68901, Oki ADPCM & Yamaha FM sound chip

GRAPHICS MODES

- Display mode: 768x512, 512x512, 256x256 31.5KHz/15.98Khz
- Text bitmap vram 4bit/pixel 1024x1024pixel 512KBytes with x,y scroll
- Graph vram 512KBytes, with x,y scroll
pixel 1024x1024pixel 1plane
pixel 512x512pixel 4plane
pixel 512x512pixel 2plane
pixel 512x512pixel 1plane

SPRITES

VRAM 32 Kb
Dimension: 16x16 pixel/sprite
Maximum sprites: 128

BACKUP RAM

16 Kb

COLORS

More than 65536

FLOPPY DISK

5 Inches 2FDD

HARD DISK

SCSI or SASI
* Refers to the basic X68000 system

---
Useful links
---
These pages are © 1998-2001 of Fabrizio Pedrazzini
Images are © original sources - All trademarks © respective owners