The Strange (and Rare) Videogame Pics Page
---

SEGA

SC-3000
The first Sega attempt to enter the videogame market outside Japan (in their home country they had already marketed the SG-1000 system).
The system was distributed in Japan by Sega and in various European countries, in Australia and in the Far Eastern markets by different local distributors and enjoyed a limited success thanks to many good Sega coin-op convertions.
The SC-3000 is a Z-80-based computer that has a lot in common with the famous MSX standard and with the Colecovision technology.

---
THE SYSTEM


The SC-3000. This is the basic model (another one, the SC-3000H with a so called "Professional keyboard" was also marketed).

---
THE ADS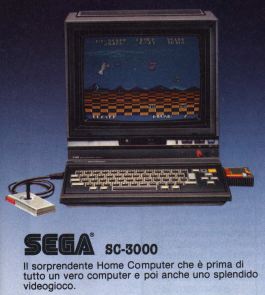 This was the ad published in an Italian videogame magazine (Videogiochi). The system was distributed in Italy by Melchioni (before they marketed also Atari products). In the pic there is also the dedicated joystick.

---
TECHNICAL SPECIFICATIONS

Soon...

---
To see scans of the User Manual go here.

---
USEFUL LINKS
The best handheld-related page on the web. Home of the Foreign SMS Faq. In the Faq you will find many interesting informations about Sega SC-3000 and related stuff. The Faq is available here. I am a contributor :-)

---
These pages are © 1998-2001 of Fabrizio Pedrazzini
Images are © original sources - All trademarks © respective owners