The Strange (and Rare) Videogame Pics Page
---
NEC PC-FX
Multimedia Entertainment Player

---
NEC answer to Sony Playstation and Sega Saturn, this 32 bit system wasn't a big success and soon after it became a niche market product that was supported by users all around the world. Prodution and distribution of the system was stopped only in 1998 like Sega Saturn! It could not be considered a failure since it had a so long life! Support for the system was given only by NEC itself but Japanese users were always happy to buy new titles all based on popular Idol characters!

---
TECHNICAL SPECIFICATION

PROCESSORE

NEC V8Lo @ 31.5- 32 bit - RISC

GRAPHICS

Two video processors
30000 poligons per second with texture mapping
True color graphics with 16.7 colors

SOUND

24 bit with ADPCM (Analog to Digital Pulse Code Machine channels)

CD-ROM DRIVE

2X
---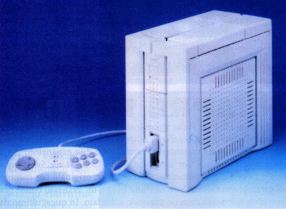 ---
I have a lot more informations about this system but I still have to order them so I'll publish them in the future.

Until then you can check:

the best PC-FX related site on the web!

---
These pages are © 1998-2001 of Fabrizio Pedrazzini
Images are © original sources - All trademarks © respective owners