The Strange (and Rare) Videogame Pics Page
---
SNK

NEO GEO CD

FRONT LOADING VERSION

At lot of years passed before the first rumors about a possible cd-based version of the Neo Geo and the final release of the system itself. The first version of the system was released in Japan and Europe as a limited edition version: it was very different from the most common one and featured a front loading cd-rom reader instead of the usual upload version. The design was also very different resembling the Panasonic 3DO FZ-1 system (the first 3DO system released). Instead of the joypad, it was sold with a newly designed joystick that was smaller than the one sold with the cartridge version.
A third version of the system, Neo Geo CDZ was also distributed and featured a faster cd-rom reader. I'll hope to upload a picture of it soon!

---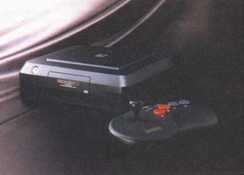 A small picture of the front loading Neo Geo CD. Note the joystick tha was bundled with the system.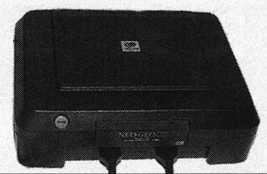 Another picture of the system. Excuse me for the awful quality but I have no better pics right now!

---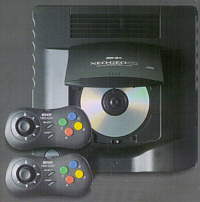 Here is a picture of the upload version and the joypad that come with it.

---
These pages are © 1998-2001 of Fabrizio Pedrazzini
Images are © original sources - All trademarks © respective owners