The Strange (and Rare) Videogame Pics Page
---

COMMODORE

CDTV
Basically an Amiga 500 in a slightly redesigned case (a Set top box with infra-red controller) and with a CD-Rom drive attached, it was probably the really first multimedia system ever released!
The complete name of the system is "Commodore Dinamic Total Television" and was an interesting piece of hardware: it was on this platform that many popular cd-rom games were originally developed (Sherlock Holmes Consulting Detective for example!). Psygnosis became the important software developer we all know developing their first cd-rom games like Microcosm and the never released Planetfall. The system was released in Europe and USA in 1991 with a 699.00 UK Pounds price tag. This system was the first real failure of the Commodore-Amiga venture. Multiple were the reasons of this failure: high price, not so high performances, few titles (and most of them were educational titles and not games!). It was also based on an old technology and had compatibility problems with many Amiga titles (unfortunately increased by the lack of built-in disk drive!).

---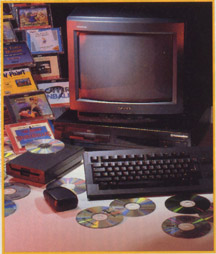 The system and many optional peripherals.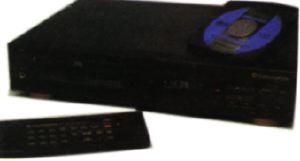 Another image of the system with infra-red controller.

---
Technical specifications
| | |
| --- | --- |
| CPU (Main Processor) | Motorola MC68000 @ 7 MHz. |
| ROM | KickStart 1.3 (customized version) and additional ROMs for CD-ROM support. |
| RAM | 512kb or 1 Mb (only later versions shipped with 1Mb). |
| CD DRIVE | 1x CD-ROM drive. Front loading design. |
| CUSTOM CHIPSET | Original Chip Set. |
| PORTS | 1Standard Serial port, 1 Parallel port, 1 Amiga Disk Drive Port, 1 Infra-red port for CDTV controller or mouse, 1 serial port for wired joystick and mouse connection, 1 port for optional Amiga keyboard, 1 Composite video output, 1 S-Video (SVHS) output, 1 RF-Modulator (TV) output, 1 23 pin connector for RGB (Analog/Digital) video output, External RCA stereo audio jacks (output of the excellent 4 channels Stereo 8 bit sound), 1 40 pins Memory Card Port (located on the CDTV front panel behind a removeable cover with the memory mapped in at $E00000), 1 30 pins DMA slot (in the back of the system. Many third party SCSI cards were developed for this slot), 1 30 pins Video Slot (allows to replace the stock RF/S Video/Composite module with a Genlock or DCTV), 1 Diagnostic Slot (80 pins Zorro slot similar to the A500's side expansion slot). |
---
These pages are © 1998-2001 of Fabrizio Pedrazzini
Images are © original sources - All trademarks © respective owners