The Strange (and Rare) Videogame Pics Page
---

BANDAI ATMARK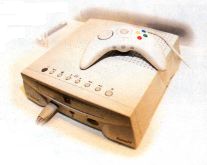 and

BANDAI @WORLD

The first (and only) Pippin based technology effectively marketed. It was considered the first real NC (Network Computer). But it wasn't...

---


An official picture from Apple online site. This is probably a modification of a Bandai Atmark photo.
Well... it wasn't... thanks to an eBay bidding I've finally found a picture of a Pippin Developer Unit with Apple logo on it. The picture is not very clear but anyway that's enough to say that the picture was based on Apple Pippin unit.

---
Bandai Atmark

This was the Japanese version of the Pippin-based system made by Bandai. The main unit includes a 4x CD-Rom, a 14.400 bps modem/fax, one pad with built-in trackball and four CD with a lot of interesting software.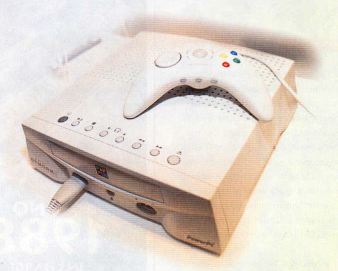 Technical specifications

CPU

PowerPC 603 at 66MHz

RAM

6 Mb (1 used as Video RAM), could use memory expansion module of 2,4 or 8 Mb

CD-ROM UNIT

4 x

VIDEO OUTPUT

VGA, NTSC or PAL

AUDIO OUTPUT

Stereo, CD quality

EXPANDABILITY

1 PCI slot (it could be used to home RAM memory)
Geoport-compatible serial port

PAD

With built-in trackball, ADB compatible

MODEM

14.400 bps, fax-ready

Beside the four included CDs a lot of other titles were marketed in Japan. At least 100 titles were available and were mostly multimedia titles, anyway many games were available too: some of them were Mac games converted to use the basic MacOs system used by Pippin technology but a lot of them were based on popular Bandai toys and products or popular Manga series (Dragon Ball Z, Sailormoon, Godzilla, Ultraman, Power Rangers etc.).

CD-ROM CONTENTS

CD-ROM No. 1

Internet Kit
(Includes Netscape Navigator
All the software could be used with the pad.
At the time the Atmark was marketed Internet capabilities were ready in 14 Japanese cities only).

CD-ROM No. 2

Communication tools
(Includes Atmark Town that could be used to connect with different services like BBSs).

CD-ROM No. 3

TV Works
(This interesting program suite includes: a word processor, a draw program, an e-mail program etc.
All the modules could be fully used with the pad).

CD-ROM No. 4

Franky Online tools
(Note: Franky Online is an online resource dedicated to electronic entertainment).

One of the programs included in TV Works. It seems to have a very Japanese-looking but highly intuitive interface.

---
Many different peripherals for the Atmark were marketed or at least announced: keyboards, mouse, floppy disk drive, optical drive peripherals, etc.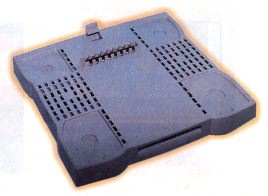 Above: what it seems to be the dedicated floppy disk drive (but the magazine that printed this pic say it is an optical drive).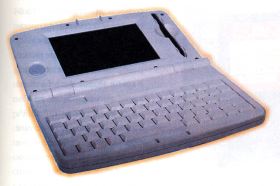 A beautiful keyboard with built-in touch-screen and stylus.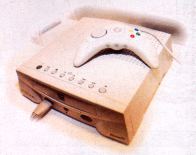 Bandai planned to sell 500000 units during the first year! Obiouvsly they never reach a so good market penetration... only a few thousand units were effectively sold.

---
Bandai @World

The western version of the Atmark. There are not many differences between this version and the eastern one. The most important differences were the color (@World is black) and the software (in English).
It was marketed only in US, Canada and probably UK but it was a big failure: at least in Japan some units were sold... Bandai no longer support it and a lot units were sold until some time ago by Katz Media.
Two versions were planned: one with only Cd support (no built-in modem) and one with full Internet support: only one was anyway marketed.
Some software titles were distributed in US but only a few were games: almost all of them were based on popular Bandai products. No one was very good...
More info and pics about @World soon!

---
Pippin 2.0: The future (?)

Yes, it seems strange but the Pippin will probably have some sort of future. Apple is working on a MacOs Light version that will be used in future products: NCs and PDAs are the most likely products to use it. One of the biggest supporter of Pippin 2.0 is Larry Ellison (head of Oracle, and member of the administration council of Apple). The future Pippin will probaly be based on G3 processors (at first it was tought it could use a PowerPC 603 at 120 MHz), will have at least 8 Mb of RAM, an MPEG-2 decoder, a Firewall port, a built-in modem and maybe a DVD drive. Both Steve Jobs (CEO of Apple) and Avie Tevanian (Software Engineering Chief) confirmed Apple interest in Network Computer some months ago.

---
Well... not quite...

No way... Apple strategies are now focused on computers and so there are no big chances to see a technology similar to Pippin with the famous Apple logo on it! Probably Apple still has plans to work on the infamous MacOs Light but since the iMac line of computers are doing very well Apple is focusing on shipping sooner the new MacOs X that seems to be a real revolution!

---
These pages are © 1998-2005 of Fabrizio Pedrazzini
Images are © original sources - All trademarks © respective owners