The Strange (and Rare) Videogame Pics Page
---
IBM POWER SERIES

One of the most misterious line of products made by Big Blue. This line was to be based on the Motorola - IBM PowerPC processor line. I don't know if it was marketed, I have to check this information, BTW they were based on the never officially released OS/2 Warp for Power PC processors.
The Power Series was an entry line series that has nothing in common with the well known RS/6000 line (UNIX workstations based on the IBM AIX OS).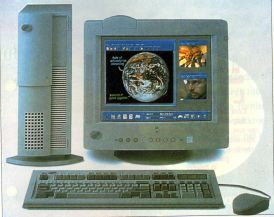 Beautiful design, a good screen, a good OS (but not as good as the MacOs of course!), Power PC processors: what could you want more from an IBM computer?

---
These pages are © 1998-2001 of Fabrizio Pedrazzini
Images are © original sources - All trademarks © respective owners