The Strange (and Rare) Videogame Pics Page
---
GOLDSTAR GPi-1200M PORTABLE CD-I PLAYER

Not many knows that Goldstar made different CD-I models. One of the most interesting one is the portable model that was available also in Europe. It was pretty similar to the Philips CDI 370 model.

---

The Goldstar GPi-1200 in full glory. It was sold for $1,899.00.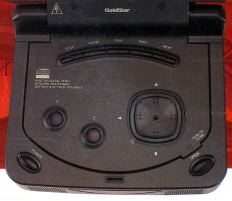 A particular of the unit. Note at the left two action buttons (1 &2), at the right the directional pad and in the upper part the basic audio-cd controls.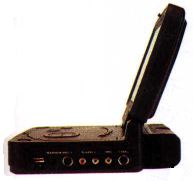 A side view. Many audio-video input-output connectors are easily recognisable.

---
Basic specifications.
LCD Display, Battery and A/C Supply included, Infrared Remote Control, MPEG Digital Video compatible.

---
Other CD-I players were made by Goldstar: you can find more here.

---
These pages are © 1998-2001 of Fabrizio Pedrazzini
Images are © original sources - All trademarks © respective owners