The Strange (and Rare) Videogame Pics Page
---
DIGITAL VIDEO CARTRIDGE FOR PHILIPS CD-I SYSTEMS

These cartridges (there are several, almost every CD-I model uses a different one) gives the possibility to play movies, concerts, etc. on Video CDs.
It was also used to enable full-screen full motion video on different games (for example Dragon's Lair and Space Ace) and to add video footage to many interactive titles (like dictionaries, reference programs, etc.).

---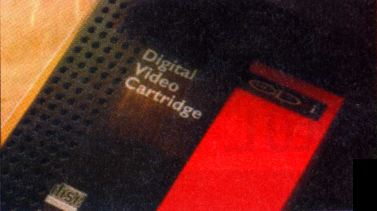 (I am sorry but I have only this picture... and it's only a particular of the DVC... I hope to find a better pic soon.)

---
Note that not every CD-I model has an expansion port that could accept a Digital Video Cartridge. In particular early models did not have this option since VideoCD support was only an optional feature and not part of the "Green Book".

---
These pages are © 1998-2001 of Fabrizio Pedrazzini
Images are © original sources - All trademarks © respective owners