The Strange (and Rare) Videogame Pics Page
---
VIDEO TECHNOLOGY - ZANUSSI

CREATIVISION

---
THE COMPLETE SYSTEM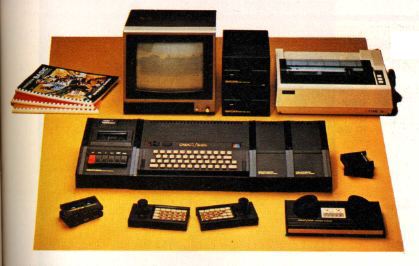 ---
This pic was used by the Italian company Zanussi that distributed the system in Italy. The system was sold at 415000 Italian lire (nearly 245 US$ or 215 Euro).
As you can see the system was meant to be extremely expandable but as far as I know only the additional keyboard was marketed in Italy. Modem, Disk drive and printer were announced. The two boxes that are connected at right side of the system were probably memory expansions but I could not be sure.
The cassette module (left end of the system on the pic) was sold in some places, at least in Australia, by Dick Smith (the company name). The system was known as the Dick Smith Wizzard in Australia.
In Europe the system was distributed in various countries other than Italy (Germany and Sweden for sure) and in Sweden both keyboard and cassette player were also distributed.
The system was distributed also in Japan under the name FunVision. It seems there were some games produced only for Japan.
The system was made by Far Eastern company Video Technology (I don't know if it was a Japanese or a Taiwanese company) and was distributed also in Japan and Far Eastern markets.
Some rumors (spreaded on a video game-related news group) said it was a Sony project that Playstation-makers did not consider a viable product and was later sold to Video Technology. I don't think it is true but... who knows?

---
You could find more about Creativision cartridges here.

---
Additional informations provided by Russ Perry Jr. and Rikard Ljungkvist. Thanks a lot!

---
These pages are © 1998-2001 of Fabrizio Pedrazzini
Images are © original sources - All trademarks © respective owners