The Strange (and Rare) Videogame Pics Page
---
CHRISTMAS NIGHTS INTO DREAMS

LIMITED EDITION SEGA SATURN GAME

At the end of 1996, in time for Christmas, Sega released a special edition of Nights called "Christmas Nights Into Dreams" that featured two completely new levels with a XMas theme and a lot of extra stuff. The CD, made in limited edition only was not marketed (beside a limited edition Christmas Nights Sega Saturn Package released in the USA and in UK) and soon became a very rare item. The following year a UK magazine (the official "Sega Saturn Magazine") re-released this game as a special cover cd gift for their readers.
The game is very interesting since it has a special feature used only in a few selected games: it vary according to what time of year the Saturn's internal clock is set to.
Christmas Nights is the variation you receive on the run up to December 25th, New Year Nights is the version available after January 1st and Spring Nights is what you get around March time. There is also a post-nuclear age version. Other incredible stuff are there to be found: there is also Sonic somewhere!
There are different versions of the CD are available for sure: one for the Japanese market, at least two for the European marlets and three versions for the US market.
The US version was given away free by two well known magazine in their December issue: Next Generation and Ultra Game Players. One of the magazine published the title in 1996 and the other in 1997. Another version was available at Blockbuster Video (as a promotional item during XMas) and was soon sold used at the same place at 10 US dollars a copy. Another version was also packed with new Saturns during the 1996 XMas period. The US version is not so rare as you could imagine and could be easily found as a second hand title. So it seems the most rare version is the European one followed by the Japanese one made with the dedicated jewel case.
Another interesting thing: in the CD there is also an Extra folder that contains two hi-resolution character artworks: you could see them here. This seems to be a common thing for Sega that done the same thing on several Saturn and Dreamcast games.

---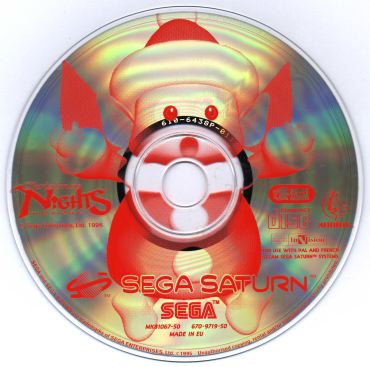 The CD as it was included in the official UK Sega Saturn Magazine, Issue 26, December 1997. It was released the year before in Japan, USA and UK (in limited edition Saturn packages).
The CD had no cover or case: it came in a small clear plastic envelope. The Japanese version was the only that came in a standard jewel case.
Thanks to George F. Palamara that gave me some additional informations on the Japanese version

---
Additional informations by: Magic41185, SolidPSX, Alfredo and Dana. Thanks a lot to all of you!

---
These pages are © 1998-2001 of Fabrizio Pedrazzini
Images are © original sources - All trademarks © respective owners