The Strange (and Rare) Videogame Pics Page
---
CD-I GAMES (AND RELATED...)

Philips considered the videogame side of the CD-I system very important and began to produce and licence a lot of games for thier CD-I systems. Not many of the games were really good but a few precious gems were produced. Tetris and a spectacular Tennis game were two of these good titles. Anyway these titles weren't enough so Philips began to buy rights all around the world to gain well-known videogame names. The most important accord was with Nintendo that gave the Holland electronic giant rights to produce games based on their most popular characters. So we could play with Mario Hotel, a fun platform game and with all the characters of the Zelda world in three different games! Other notable titles were Dragon's Lair I and II, Space Ace and 7th Guest. A few later titles required the FMV add-on module to run on the system. More CD-I will be reviewed on this page soon!

---
USA '94 WORLD CUP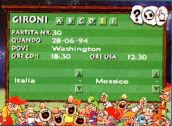 Various datas about soccer competitions.

Full Motion Video footage.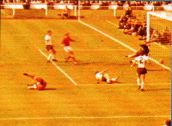 ---
It's not a game, anyway it's a good example of a well done interactive title for CD-I systems. It was completely translated in Italian but there were other versions.

---
These pages are © 1998-2001 of Fabrizio Pedrazzini
Images are © original sources - All trademarks © respective owners