The Strange (and Rare) Videogame Pics Page
---

COMMODORE

AMIGA CD32
The first 32-bit console on the market, and the last Commodore effort before they went bankrupt. A good system with a lot of games made for it, but only a few of them used all the possibilities the system allowed. The NTSC version, marketed for (only) a few months, is pretty rare.
The Commodore Amiga CD32 was also the first videogame system with a built-in 2X CD-Rom player and was easily expandable to a full working Amiga computer thanks to a third party add-on called SX-1.

---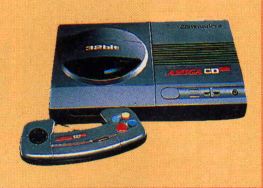 The system and its joypad (one of the worst ever made!).

---
Technical specifications
| | |
| --- | --- |
| CPU | Motorola 68EC020 @ 14.32 MHz. A 32 bit processor. |
| ROM | 1 Mb for the OS (a customized version of the Amiga Os: release 3.1 - version 40.6). |
| RAM | 3 Mb (divided in 2 Mb of Chip RAM and 1Mb of Flash RAM) |
| CD DRIVE | 2X CD-Rom drive, top-loading design. |
| CUSTOM CHIPSET | AGA-type. Four chips were present: Alice, Lisa, Paula and Akiko (the last one was specific for this system). |
| PORTS | 1 6-pin mini-din AUX port (serial/keyboard connector), 2 9-pin D-type controller ports (joypad/mouse/joystick connectors), 1 composite video output, one S-Video video output, 1 RF video output, 2 RCA-type audio outputs, 1 mii-stereo headphone jack output (with adjustable output level), 1 expansion port (for FMV cartridge and other expansions like the SX-1 add-on). |

All the above specifications were taken from the Amiga CD32 FAQ.

---
Some years ago there were many rumors about a new version of the system. Called by some journalists "Amiga CD64", was probably just vaporware. If there was another console on Commodore or Amiga projects, it was soon canned after Amiga went bankrupt. Recent rumors speculate that the next Amiga incarnation, based on the ELATE Kerner, could also be used on videogame systems. I'm curious...

---
To have more info you could search in Amiga CD32 FAQ here:

Amiga CD32 FAQ Part Two

---
These pages are © 1998-2001 of Fabrizio Pedrazzini
Images are © original sources - All trademarks © respective owners