The Strange (and Rare) Videogame Pics Page
---
BE INC.

BEBOX

---

The only hardware product made by Be Incorporated. The company, better known for their alternative operative system, Be OS, made it at first for this powerful and versatile dual-Power PC platform.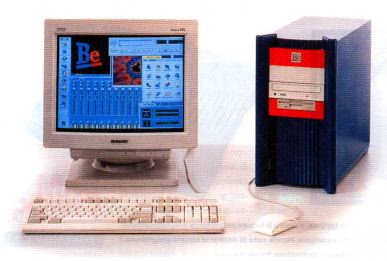 Here is the BeBox! Red and blue (like Be Inc. logo) uses PC standard components and a versatile new OS with true multitasking capabilities, support for multiprocessor systems and without compatibility problems. Only a few precious hundreds units were made and all were shipped to developers around the world (but in particular in Europe).

TECHNICAL SPECIFICATIONS

CPU

2 x PowerPC 603 at 66 MHz or 100 MHz
Could support up to 8 CPUs

RAM

Up to 256 Mb

HARD DISK

Support for IDE and SCSI hard disks

INTERNAL BAYS

2 x 3,5" and 2 x 5,25"

DISPLAY

Support PCI SuperVGA controller

NETWORKING

Support Ethernet (ISA standard)
Serial port for modems

INTERFACES

3 internal PCI slots and 5 internal ISA slots
1 PCI controller for SCSI II
Standard PC keyboard and PS/2 mouse
In and out MIDI ports
4 RS-323 serial ports
2 joystick ports
3 infrared ports
Geekport (sincerely I don't know what it is...)
In and out RCA jack ports and two stereo microphone jacks with support for 16-bit sound.
Two different configurations were available:

CONFIGURATION ONE

CONFIGURATION TWO

Minitower chassis

Minitower chassis

Motherboard with 2 PPC 603 at 66 MHz or 100 MHz

Motherboard with 2 PPC 603 at 66 MHz or 100 MHz

I/O board

I/O board

AC adaptor

AC adaptor

0 Mb of RAM

16 Mb of RAM

No hard disk

540 Mb hard disk

No peripherals

3,5" Floppy disk drive
4x CD-Rom
SVGA Video card
Ethernet card
Keyboard and mouse

Software included:
BeOS for BeBox
Metrowerks CodeWarrior IDE
Documentation on CD-Rom

Software included:
BeOS for BeBox
Metrowerks CodeWarrior IDE
Documentation on CD-Rom

Price: nearly 10000 French Francs

Price: nearly 16500 French Francs
Several units were sold (probably up to 1000 unit) both in US and Europe. Until few months ago was easy to find used systems on the net.
After Be Inc. decided to develop only the BeOS (for Power PC and Intel processors), Be discontinued this interesting product.
Actually BeOS is only available for Intel processors since Apple refused to provide G3/G4-based informations to Be Inc.

---
BeOS

BeOS was once a very popular subject. There were rumors about a possible use of it by Apple for the next century MacOs. After Apple bought NeXT the hype sorrounding Be and BeOS faded away. The operative system is now available for both PowerPC Macintosh and Intel-based systems and is now at version 3.2 but it is struggling to have a much more heavier support from developers and users.
More info could be find at Be Inc. online site.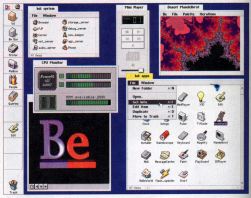 Note the heavy use of multitasking. In the middle left part of the screen there is a window displaying the use of the dual processor architecture.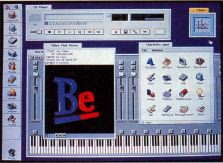 Another picture of the BeOS at work. The rotating Be logo was probably a real time 3D object.
An almost complete (at least Be said) version of the BeOS (and a lot of software for it) for Macintosh based on the PCI architecture was included free in an old issue of MacTech (the most important developer-oriented Mac magazine).

---
I'll try to have more info on this great piece of hardware directly from Be soon! And also if I do not have plans to introduce more informations on BeOS, I'll soon include links on the subject.

---
These pages are © 1998-2005 of Fabrizio Pedrazzini
Images are © original sources - All trademarks © respective owners