The Strange (and Rare) Videogame Pics Page
---
PHILIPS VIDEOPAC COMPUTER EXPANSION

C7420

The first Philips attempt to enter the home computer market (after some time they marketed several MSX computers and became one of the most important supporter of this system). This expansion is very rare.

---
C7420 EXPANSION FOR VIDEOPAC G7400 (ODYSSEY3)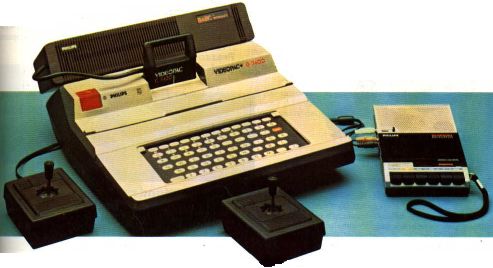 System specifications

To be used only with Videopac G 7400 systems. Not compatible with Videopac G7000 and G 7200 systems.

CPU

Z80

Graphics

320*230 pixels (High resolution graphics)

ROM

17 K (16+1)

RAM

22K

User RAM

14K

Video RAM

8K

Colors

8

Lines

23

Characters per line

40

Audio

9 tones via built-in sound-generator

Tape recorder interface

Velocity: 1200 bit/sec

Comes with: Manuals, Programming Manual, 4 free programs.

At the time this module was sold for 250000 Italian Lire (actually nearly 150 US$). I suppose the free included programs were on tape and probably programmed in Basic.

---
These pages are © 1998-2005 of Fabrizio Pedrazzini
Images are © original sources - All trademarks © respective owners